Why a poodle?
Poodles are one of the most popular breeds in the world. They are known for being exceptionally smart and easy to train. The temperament of poodles is most often described as loyal and intelligent. Poodles are perfect for allergy sufferers; they are non-shedding hypoallergenic dogs! They make the perfect family pets and are wonderful with children. Aside from being playful, poodles are known to be loving and affectionate canines. Whether you're a first-time poodle pawrent or lifetime poodle lover, you can never go wrong with a poodle.
What's the difference in poodle sizes?
Toy poodles are up to 10" inches tall at the withers
Miniature poodles are between10-15" inches tall at the withers
Moyen Poodles are between 15-20" inches tall at the withers
Standard poodles are above 20" inches tall at the withers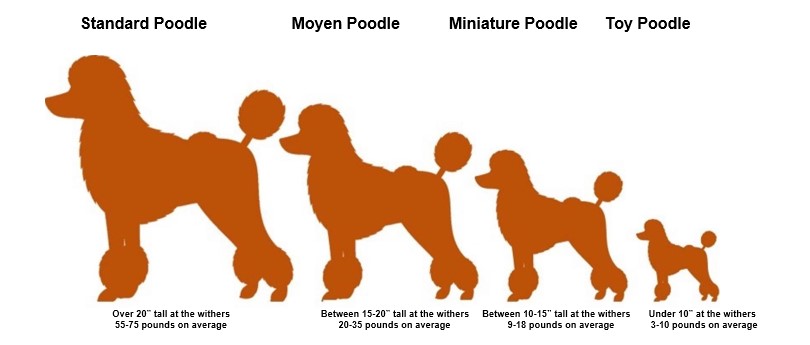 What is the price of a puppy?
Our Miniature and Moyen poodle puppies are priced at $4,500. All puppies are sold with limited registration to pet homes with strict spay/neuter contracts.

We will soon (November/December 2022) be offering full registration. Full rights will be given on a very limited basis to select breeders with responsible programs. A separate application (not located on our website) will be required for breeding rights.
Do you provide a health guarantee?
Yes, we provide a 2-year health guarantee against life threatening and genetic illnesses. This will be included in your contract.
What's included in the puppy price?
Puppies are provided with age appropriate dewormings at 2,4,6 and 8 weeks of life. Our puppies are given their first vaccine at 7 weeks old. They are also given medication for prevention of coccidia. You'll receive a medical record with all medications and vaccinations administered in your puppy folder.  

Puppies are examined by a licensed veterinarian and go home with a health certificate. Any abnormalities are documented if need be. A fecal test is also done during their 7-week exam. All paperwork will be included in your puppy's folder.

We offer a 2-year health guarantee against life threatening genetic illnesses. This will be included in our contract.

Puppy Temperament Evaluations will be included in each puppy's folder.

Our puppies are sent off with 30 days of Trupanion's Pet Insurance

TK Poodles sendoff puppy bag of goodies including a scented blanket and sample of food.
Why should I consider TK Poodles?
All our dogs and puppies are raised in our home or in a guardian home nearby with their forever families. We refuse to raise our dogs in outdoor kennels. Our dogs are a part of our family, and all receive the obedience training, love, and the attention they deserve.

We breed responsibly and intentionally, considering each dog's temperaments and genetics prior to breeding a pair. A dog's genetics allows breeders to be well advised that there may be a predisposition toward a disease present in a dog's DNA. Our dogs are genetically tested by Embark or PawPrint Genetics.

We prioritize health and invest in Orthopedic Foundation for Animals (OFA) & PennHIP for our dams and sires. Cardiac, patella's, elbows and hips are all certified through OFA. At the very least, OFA preliminary testing is done. We also have Pennhip testing done on our dams and sires which aides in reducing incidences of canine hip dysplasia. PennHIP is done under anesthesia assess the quality of hips by measuring joint laxity using distraction techniques. Both OFA and PennHip testing are time consuming and costly. For these reasons amongst others, some breeders do not invest in OFA or PennHip testing.

Our puppies are raised and socialized in home using the "BADASS" Breeder Curriculum. We are proud to have integrated such an amazing guide into our breeding program. Raising puppies the Badass Breeder Way way outlines how to empower puppies during the first weeks of life versus enabling them. The curriculum follows a great deal of our values and beliefs.

We perform Early Neurological Stimulation (ENS) exercises during day 3 to day 16 of life. This period is believed to be time of rapid neurological growth and development. ENS requires handling puppies one at a time while performing a series of 5 exercises. The US Military developed this method to improve the performance of future military working dogs. Below are the benefits of ENS.

o More tolerance to stress
o Greater resistance to disease
o Improved cardiovascular performance (heart rate)
o Stronger heart beats
o Stronger adrenal glands

We expose our puppies to Early Scent Introduction (ESI) from day 3 to day 16 of life. ESI is intended to enhance puppies abilities to identify and react to specific scents. Each day puppies are introduced to a new scent for a brief interval. Reactions are recorded as negative, positive, or neutral.

We've began conducting puppy temperament testing which help families gain insights into a puppy's personality. Keep in mind that the puppy's behavior as an adult will depend on many factors, including life experiences and the parenting and training received from pet parents.

Our puppies get a head start on grooming exposure. Grooming is important in maintaining a puppy's overall health and wellbeing. Early grooming also teaches puppies to tolerate grooming when he or she is young. When puppies are introduced to grooming at an older age, puppies become easily stressed and make grooming sessions almost impossible to complete. Our puppies receive routine nail clipping and baths. They are also exposed to the blow dryer, sheers, and the vibration of clippers.

Crate exposure starts with us! At 6 weeks of age puppies begin crate training freely with open doors to allow them to become comfortable and familiar with their crates. At 7 weeks old we begin closing the doors for short intervals and allow a separate nap time for each puppy.

Our puppies are litter box trained with alfalfa pellets. Puppies associate the color and smell of the alfalfa pellets to grass which allows for an easier transition to outdoor potty. Our litter boxes are thoroughly cleaned and changed daily. When puppies are older, we provide multiple litter boxes for potty which are cleaned 2-3 times daily.

Our puppies are kept indoors in safe, clean stimulation areas. These areas include puppy enrichment activities for physical and mental stimulation. In addition, puppies are well socialized and entertained by our 3 children. When puppies are of age we allow our children to have supervised playtime with our puppies daily.

We provide a lifetime of support to our TK Poodles puppy families no matter the age of the puppy or dog.
Do you offer training beyond 8 weeks?
Yes! We are thrilled to offer a group puppy training course in partnership with expert dog coach Dre Nolon of My Loyal Hound. This unique four-week, group class will teach you the foundational skills you need to raise the calm, happy dog of your dreams.

For those that register for this incredible class, Dre has created an information video to help you prepare for your new puppy. In the Bringing Puppy Home video, Dre will cover what supplies you need, feeding, sleep and potty routines, your first vet visit, and dos and don'ts with your new puppy. The goal of this webinar is to help you start this puppy journey with confidence so you can eliminate the guess work and focus on the fun parts of welcoming your puppy!

There will be other new puppy owners taking this class too, and many TK Poodles puppy families from current litters, so you will have a great sense of community, support, and resources to help you tackle the most common new puppy hurdles with ease.

I sincerely believe all new puppy parents would benefit from these incredible resources. All our past puppy families who've took advantage of this course would agree. Dre is passionate, professional, educated, experienced and patient – all the things you look for in a trainer. We love working with her and we are proud to be in partnership with her.

Learn more about the online course here: https://myloyalhound.com/group-puppy-training/
Where are you located?
We're located in Northern NJ just about a half hour outside of New York City.
Are we allowed to visit puppies on the premises?
We do not allow puppy families to visit puppies inside or outside of our home, health and safety are priority. Instead, we accommodate families with a virtual visit which takes place during puppy selection at 7 weeks old. During this time temperament testing is completed and we will be able to discuss your puppy's personality and how they scored on their test. Our virtual selections have been very effective, and we've received positive feedback from our puppy families.

We also keep families updated through pictures and videos on our social media pages (Instagram and Facebook), which is always exciting to be able to watch puppies grow over the first 8 weeks of life.
What is your puppy adoption process?
The first step in our adoption process is filling out an application through our website. Once your application is received you will receive an email regarding scheduling a phone interview.

Please note that ONLY approved applicants who've had their phone interviews will be allowed to leave deposits and be placed on our waitlist.

Deposits are $500 and will be applied to the total cost of the puppy. Deposits are transferable for up to 1 litter (our very next litter) however, all deposits are NON-REFUNDABLE.

The final balance is due before OR at the time of puppy pick up. Puppies are ready for their new homes at 8 weeks of age. We accept Zelle, PayPal, Cash App, overnight checks, cashier's check, and cash for both deposits and final balance. Families who wish to pay their balance electronically or by check will need to do so at least three days prior to puppy pick up.
Do you have any available puppies?
Available puppies are posted on the available puppy tab of our website as well our social media page (highlight area).
Is shipping offered?
We are agreeable to ship our puppies via flight nanny or ground shipping services. Group shipping will depend solely on the distance of travel.
What is your preferred method of communication?
We prefer to be contacted via email during the adoption process. We are also open to text messages, social media direct messages and phone calls (if scheduled).
Will my red poodle puppy fade?
Red poodles became an official AKC color in 1980. The color has yet to be completely understood. Red poodles are of a rare and fading gene referred to as the "rufus" gene, which has yet to be discovered. This gene may work to darken an apricot overtime.

Red puppies that are born with dark coats tend to fade to lighter colors as time passes. By the time a poodle reaches age two, the lightening process should be coming to an end. Some may go through a second lightening phase that occurs between the age of two and three. So, keep in mind that vibrant puppy color may change to a more subdued color overtime. Some red poodles darken as they enter their senior years. We've seen it happen and its quite fascinating!

We've noticed that breeding associated hormones cause reds to fade faster. We've also noticed that red poodles who live in much warmer climates tend to fade faster due to sunbathing. Over the years we've been working to avoid fading by select breeding and keeping ourselves educated with new evidence. A proper diet and coat care both aid in keeping coats nice and dark as well.
Can I switch my puppy's food to another brand?
Switching your dog's food abruptly can cause gastrointestinal upset such as vomiting, diarrhea, and a decreased appetite. Any time you decide to change your puppy or dog's food, you should transition to the new diet gradually in to give your dog's system time to adjust to the change. Please see the below example to with food transitioning.