TK Poodles Guardian Home Program
TK Poodles believes that every dog deserves to be a part of a family in a loving home. We do not raise our dogs in outdoor kennels, they are raised in our home and are a part of our family. While we'd love to keep ALL our breeding dogs in our home, we know that in doing so they wouldn't have the quality of life they deserve. For this reason, we are offering Guardian Home opportunities to families who meet criteria. Our Guardian program is an excellent way to co-own a high quality, hypoallergenic, genetically and health tested Poodle as a family pet at a super low cost!

Here's how it works! If interested and your family meets criteria, fill out a Guardian Home application. TK Poodles will contact families for an interview once a puppy becomes available. Guardian puppies will be selected by TK Poodles based on health, temperament, and structure.

Female guardian dogs begin producing between 18 and 24 months of age. When a female dog is in season, the Guardian Family is required to contact us immediately. The female will then come to our home during her heat cycle for breeding, afterwards returning home to her guardian family for the duration of her pregnancy. The female will return to TK Poodles one week prior to her expected date of delivery. Once our Guardian Home contract is fulfilled, TK Poodles will cover the cost of spay and transfer ownership to Guardian families. Females will then retire with their Guardian families in their forever homes.

Our puppies are an essential component of our program and require long-term commitment and love. Our contract covers the details of our Guardian Home Program more thoroughly. If you would like to be considered for part of TK Poodles Guardian Home Program, please contact us.
Guardian Home Requirements:
Live within a 2-hour driving distance from MetLife Stadium in Northern, NJ

Provide a fully secure fenced yard

Feed quality food only

Provide basic obedience training, proper socialization to people, children, and dogs

Understand the responsibilities of caring for a breeding dog

Willingness to return the dog to TK Poodles during breeding and whelping

Agree to regular health, veterinary care, and vaccinations

Communicate freely with TK Poodles about the health and conditions of the guardian dog
Benefits of Being a Guardian Home:
Receive a quality breeding puppy chosen by TK poodles at a low cost

TK Poodles will pay for the spay/neuter once the guardian dog is retired from breeding

Providing a breeding dog with a loving family for LIFE, ensuring the dog never experiences life in a kennel or being re-homed after retirement
Guardian Home Application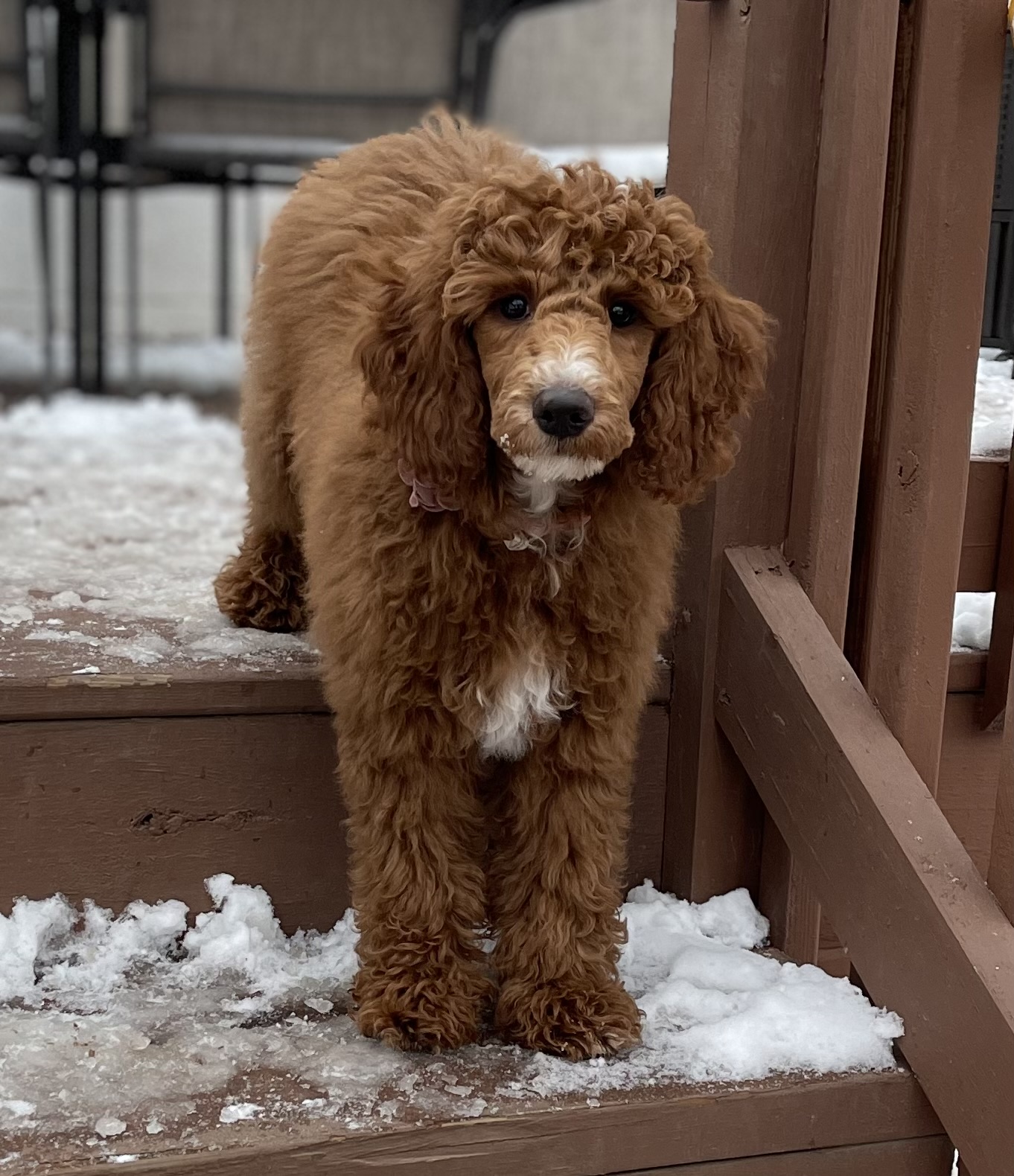 Juliet Date of Birth: 10/24/2021
Breed: Moyen Poodle
Weight: 13 Ibs (expected adult weight 25 pounds)
Juliet is a deep red Moyen poodle. She is an absolute joy; confident, super friendly and intelligent. Juliet enjoys games of fetch, playtime with other dogs and cuddles with her humans. She is well socialized around children and dogs. Juliet is crate trained and has been doing well with her outdoor potty routine. She is a quick learner and knows many of her basic commands. Juliet has been genetically tested and cleared of all breed relevant conditions. We are proud to have added this beautiful girl to our program and we are seeking the perfect guardian home for her.